Overview of AKFIN
AKFIN was established in 1997 under the direction of the Pacific States Marine Fisheries Commission (PSMFC). Our mission is (1) to acquire and consolidate the vast quantity of data generated by the Alaska fisheries, (2) to provide quantitative analyses and interpretations of these data, and then (3) to disseminate the processed information to fishery analysts, scientists, economists, and other administrative agencies.
What Do We Do?
AKFIN maintains an extensive data library from which we pull the information used to fulfill data requests. We offer analysts direct access to much of the information we maintain in the data library via a secure connection to AKFIN Answers (requires login).
In addition to providing analysts with access to our data library, we fulfill requests from a wide range of organizations in need of consolidated commercial fisheries information to include:
North Pacific Fishery Management Council
National Marine Fisheries Service
Alaska Department of Labor
Pacific States Marine Fisheries Commission
Our primary purpose is to provide complex data sets to fisheries analysts and economists to support the Council's decision-making process.
Who Can Access Our Data?
While anyone interested in Alaska fisheries information can request data from AKFIN, our primary users are analysts and economists directly involved in fisheries management. All requests are reviewed and prioritized based on the requesting agency and purpose of the request.
How Do We Handle Confidential Data?
AKFIN adheres to the guidelines set forth by the Alaska Department of Fish and Game in Alaska Statute AS 16.05.815. Confidential Nature of Certain Reports and Records to protect our confidential, commercial fisheries data. To receive confidential information, you must be approved to do so by state and federal bodies governing the use of confidential information. We can provide you information on the requirements involved.
Where Do We Get Our Data?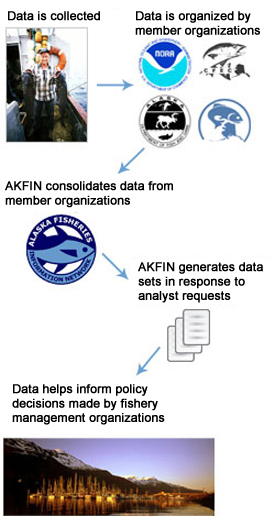 AKFIN does not collect data but maintains this library comprised of data from many fisheries agency sources to include:
NMFS Alaska Region
NMFS Alaska Fisheries Science Center
Alaska Department of Fish and Game
We work to consolidate the agency data sources into a single, comprehensive database, applying value-added information to provide a standardized view of the Alaska commercial fisheries data for analytic purposes.
Want To Know More About AKFIN?